Are you as sure and confident in your training on the inside as you are on the outside? If the answer is no, I am here to help you gain the power to change tha

t.
Many of us fit and strong women feel accomplished with our fitness lifestyle. The training is strong, we are setting fitness records, staying in shape, and feeling sexy. And then suddenly, without rhyme or reason, we don't feel our best anymore, we are getting tired earlier, and don't achieve our goals as easily as we used to. Menopause has arrived.
My name is Heike Yates and we have more in common than you think.
I faced a lot of challenges throughout my life and it took a great deal of mental strength, determination in personal growth, and courage to be where I am today.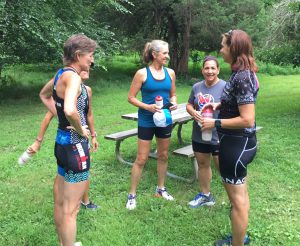 Fitness has always been a part of my life, whether in my business as a personal trainer and studio owner, or in my spare time preparing for a body building competition, a marathon, or a triathlon. When I started menopause, my experience and training in exercise and nutrition helped me develop strategies to overcome and successfully deal with its side effects.
It was not until 2012 that I was finally able to make the impact in other women's lives going through menopause that I hoped for. The best part about it was that I could change the way strong women exercise, nourish their bodies, and enjoy their healthy fitness lifestyle all over the world.
No matter how big our struggles may be, each day offers us an opportunity to be stronger. The only person holding you back from excellence is the person in the mirror.
My passion is helping women feel strong and sexy, so they can embrace each day with enthusiasm.
My signature online training system has helped strong women around the globe share their stories and excitement about their renewed love for their bodies as a result of my influence and coaching.
When we embrace our bodies and the changes we experience, we become mentally and physically stronger as a result.
I can't wait to connect with you and boost your confidence by helping you to feel fit, confident, and sexy.
– Heike
A $9.97 value!
I want to know why I feel this way as an Active Women in Menopause and the best strategies to help me feel better.
A $9.97 value!
I want to know the best tips on how to deal with the side effects of Menopause and feel energized.
A $9.97 value!
I want to know what foods to eat and how to exercise to get rid of belly fat and feel sexy again.
Save
Save
Save
Save