It will happen to everyone sooner or later.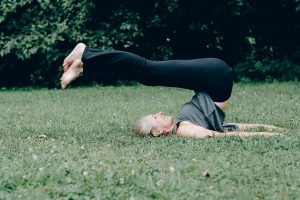 The onset of Menopause is slow, but at some point out of the blue it seems to hit you, or at least something seems off. You feel on edge, tired, emotionally drained, unable to reach your goals you set for your exercise program, or even get started with a workout. Over training might be the answer you think.
How did I get here? The Menopause Promise.
I want to share my 5 strategies to a mental toughness in fitness and menopause with you, so you can feel stronger and mentally tough too.
So, what's going on and what can you do to stay laser focused in your training?
You are aware that you might enter Menopause soon or are already there, since you skipped your period at least three times. Maybe you could ask your friends, but we women are sometimes very private, even with our friends, to ask about something that personal. Searching the internet did not produce the results you hoped for or does not have the right answers for your needs. As active women we have quite different requirements during Menopause, but we are just as affected by it.
Hormone changes are to blame for sudden mood swings and loss of energy during Menopause. Hot flushes and night sweats are affecting your mood and staying awake at night finds you getting up exhausted and in a fog because you did not sleep properly.
Mental Toughness
As an active woman myself I know exactly what that feels like and nobody seems to have a good tip for us fit women or even a solution.
Just last night I was awake for several hours without any reason and woke up groggy and exhausted. I had a full day of work ahead and my training schedule called for a 6 mile track workout.
It was super hot and humid in Washington that day and track was out in the relentless sun. I prepared by wearing light running clothes, a big water bottle to carry with me, and my wearable heart rate tracker. As I headed for the track I decided to change my workout intensity and terrain and to run the shaded trail area near my house. My focus was to keep my heart rate in my Zone 2, which is an easy pace and go from there.
Humidity and heat made it impossible to run the planned workout but I got out there and finished my 6 miles feeling strong. I focused on my breathing and an even pace, drinking plenty of water along the way. When I felt I was getting over-heated, I checked my heart rate and slowed down my pace. During all of this, I stayed in touch with how my body responded and concentrated on my goal to finish my run feeling energized.
You know you can do it too! Check out my 5 strategies to mental toughness in menopause and fitness, so you too can be energized and release stress while staying fit.
Evaluate
Your symptoms will change every day and you will feel different every day. Start a daily diary on how you feel and what symptoms bother you the most. Evaluate your energy level and what type of training you are able to accomplish. It is much easier to see a pattern once it is in writing right in front of you. Once you understand the patterns you can make changes to your workouts accordingly.
Visualize
Not every day will be perfect, but you can work on visualization techniques that set up a positive mindset. Before you head out for your workout, take a few moments while breathing deeply and envision a positive outcome of your workout and day. Imagine how strong and laser focused you will be. This works for your training and life, and your day will be the best day it can be, no matter how Menopause affects you.
Prepare
Prepare for anything so that everything goes smooth and uninterrupted. You packed your workout clothes to take to work and made an appointment with yourself to train.  Prepare yourself emotionally that today may be a less intense workout day than yesterday, but you still go after it. Nothing can stop you to succeed having the best day every time.
Be Mindful
Stay in present moment in the here and now and don't get caught up in your head. Letting go of anxiety and practicing relaxation techniques is so important, not only during training but every day. Feel your breath during your workouts and enjoy the moment without distractions. This is your time to get rid of stress and other distractions in your mind.
First Signs
I want to know why I feel this way and what to do about it to continue my fit lifestyle.  A $9.97 value!
Accept Yourself
Take your life in stride, accept yourself for who you are and accept the changes you are going through. Nobody is going to judge you for the way you feel but yourself. Be kind to yourself and nurture your mind and body. The more you love yourself, the more you will portray that to others and they see the energy coming through.
You know Menopause will not last forever and getting through this difficult time in your life with much strength, energy, and love for yourself is possible. Stay laser focus on what you need each and every day.
Take Action:
It's time to get after it.
Right now download your free FIRST SIGNS that I have created for you. It will help you focus on the easiest steps to take that will make a change.
Then I want you to

start your diary

and jot down everything that is holding you back and the changes you made to feel better each day.
I want you to

share this with a friend

that is in the same situation as you. I want to help you show your friend a way to be successful too in staying with a positive mindset.
You don't have to suffer in silence and hope it will get better one way or another. Taking charge of your Menopause strengthens not only your body, but also your mind.
Don't wait, take that first step now!
First Signs
I want to know why I feel this way and what to do about it to continue my fit lifestyle. A $9.97 value!
Moving Through Side Effects
I want to know what zaps my energy and find solutions for my active lifestyle. A $9.97 value!
Burn the Belly Fat
I want to learn about strategies that will help me burn the belly fat. A $9.97 value!
Save
Save